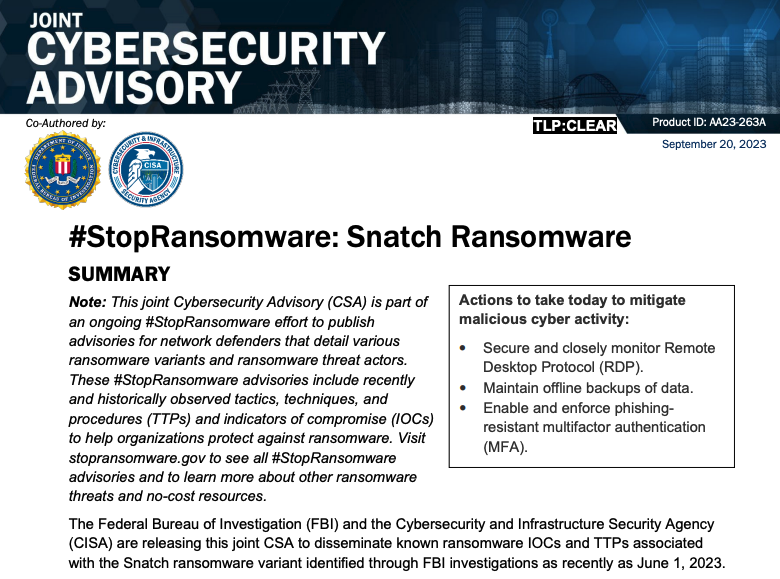 Earlier this week, KrebsOnSecurity revealed that the darknet website for the Snatch ransomware group was leaking data about its users and the crime gang's internal operations. Today, we'll take a closer look at the history of Snatch, its alleged founder, and their claims that everyone has confused them with a different, older ransomware group by the same name.
According to a September 20, 2023 joint advisory from the FBI and the U.S. Cybersecurity and Infrastructure Security Administration (CISA), Snatch was originally named Team Truniger, based on the nickname of the group's founder and organizer — Truniger.
The FBI/CISA report says Truniger previously operated as an affiliate of GandCrab, an early ransomware-as-a-service offering that closed up shop after several years and claims to have extorted more than $2 billion from victims. GandCrab dissolved in July 2019, and is thought to have become "REvil," one of the most ruthless and rapacious Russian ransomware groups of all time.
The government says Snatch used a customized ransomware variant notable for rebooting Microsoft Windows devices into Safe Mode — enabling the ransomware to circumvent detection by antivirus or endpoint protection — and then encrypting files when few services are running.
"Snatch threat actors have been observed purchasing previously stolen data from other ransomware variants in an attempt to further exploit victims into paying a ransom to avoid having their data released on Snatch's extortion blog," the FBI/CISA alert reads. It continues:
"Prior to deploying the ransomware, Snatch threat actors were observed spending up to three months on a victim's system. Within this timeframe, Snatch threat actors exploited the victim's network moving laterally across the victim's network with RDP for the largest possible deployment of ransomware and searching for files and folders for data exfiltration followed by file encryption."
New York City-based cyber intelligence firm Flashpoint said the Snatch ransomware group was created in 2018, based on Truniger's recruitment both on Russian language cybercrime forums and public Russian programming boards. Flashpoint said Truniger recruited "pen testers" for a new, then-unnamed cybercrime group, by posting their private Jabber instant messenger contact details on multiple Russian language coding forums, as well as on Facebook.
"The command requires Windows system administrators," Truniger's ads explained. "Experience in backup, increase privileges, mikicatz, network. Details after contacting on jabber: truniger@xmpp[.]jp."
In at least some of those recruitment ads — like one in 2018 on the forum sysadmins[.]ru –the username promoting Truniger's contact information was Semen7907. In April 2020, Truniger was banned from two of the top Russian cybercrime forums, where members from both forums confirmed that Semen7907 was one of Truniger's known aliases.
[SIDE NOTE: Truniger was banned because he purchased credentials to a company from a network access broker on the dark web, and although he promised to share a certain percentage of whatever ransom amount Truniger's group extracted from the victim, Truniger paid the access broker just a few hundred dollars off of a six-figure ransom].
According to Constella Intelligence, a data breach and threat actor research platform, a user named Semen7907 registered in 2017 on the Russian-language programming forum pawno[.]ru using the email address [email protected].
That same email address was assigned to the user "Semen-7907" on the now defunct gaming website tunngle.net, which suffered a data breach in 2020. Semen-7907 registered at Tunngle from the Internet address 31.192.175[.]63, which is in Yekaterinburg, RU.
Constella reports that [email protected] was also used to register an account at the online game stalker[.]so with the nickname Trojan7907.
There is a Skype user by the handle semen7907, and which has the name Semyon Tretyakov from Yekaterinburg, RU. Constella also found a breached record from the Russian mobile telephony site tele2[.]ru, which shows that a user from Yekaterinburg registered in 2019 with the name Semyon Sergeyvich Tretyakov and email address [email protected].
The above accounts, as well as the email address [email protected], were all registered or accessed from the same Yekaterinburg Internet address mentioned previously: 31.192.175.63. The Russian mobile phone number associated with that tele2[.]ru account is connected to the Telegram account "Perchatka," ("glove" in Russian).
BAD BEATS
Reached via Telegram, Perchatka (a.k.a. Mr. Tretyakov) said he was not a cybercriminal, and that he currently has a full-time job working in IT at a major company (he declined to specify which).
Presented with the information gathered for this report (and more that is not published here), Mr. Tretyakov acknowledged that Semen7907 was his account on sysadmins[.]ru, the very same account Truniger used to recruit hackers for the Snatch Ransomware group back in 2018.
However, he claims that he never made those posts, and that someone else must have assumed control over his sysadmins[.]ru account and posted as him. Mr. Tretyakov said that KrebsOnSecurity's outreach this week was the first time he became aware that his sysadmins[.]ru account was used without his permission.
Mr. Tretyakov suggested someone may have framed him, pointing to an August 2023 story at a Russian news outlet about the reported hack and leak of the user database from sysadmins[.]ru, allegedly at the hands of a pro-Ukrainian hacker group called CyberSec.
"Recently, because of the war in Ukraine, a huge number of databases have been leaked and finding information about a person is not difficult," Tretyakov said. "I've been using this login since about 2013 on all the forums where I register, and I don't always set a strong password. If I had done something illegal, I would have hidden much better :D."
[For the record, KrebsOnSecurity does not generally find this to be the case, as the ongoing Breadcrumbs series will attest.]
A Semyon Sergeyvich Tretyakov is listed as the composer of a Russian-language rap song called "Parallels," which seems to be about the pursuit of a high-risk lifestyle online. A snippet of the song goes:
"Someone is on the screen, someone is on the blacklist
I turn on the timer and calculate the risks
I don't want to stay broke And in the pursuit of money
I can't take these zeros Life is like a zebra –
everyone wants to be first Either the stripes are white,
or we're moving through the wilds I won't waste time."
Mr. Tretyakov said he was not the author of that particular rhyme, but that he has been known to record his own rhythms.
"Sometimes I make bad beats," he said. "Soundcloud."
NEVER MIND THE DOMAIN NAME
The FBI/CISA alert on Snatch Ransomware (PDF) includes an interesting caveat: It says Snatch actually deploys ransomware on victim systems, but it also acknowledges that the current occupants of Snatch's dark and clear web domains call themselves Snatch Team, and maintain that they are not the same people as Snatch Ransomware from 2018.
Here's the interesting bit from the FBI/CISA report:
"Since November 2021, an extortion site operating under the name Snatch served as a clearinghouse for data exfiltrated or stolen from victim companies on Clearnet and TOR hosted by a bulletproof hosting service. In August 2023, individuals claiming to be associated with the blog gave a media interview claiming the blog was not associated with Snatch ransomware and "none of our targets has been attacked by Ransomware Snatch…", despite multiple confirmed Snatch victims' data appearing on the blog alongside victims associated with other ransomware groups, notably Nokoyawa and Conti."
Avid readers will recall a story here earlier this week about Snatch Team's leaky darknet website based in Yekaterinburg, RU that exposed their internal operations and Internet addresses of their visitors. The leaked data suggest that Snatch is one of several ransomware groups using paid ads on Google.com to trick people into installing malware disguised as popular free software, such as Microsoft Teams, Adobe Reader, Mozilla Thunderbird, and Discord.
Snatch Team claims to deal only in stolen data — not in deploying ransomware malware to hold systems hostage.
Representatives of the Snatch Team recently answered questions from Databreaches.net about the claimed discrepancy in the FBI/CISA report.
"First of all, we repeat once again that we have nothing to do with Snatch Ransomware, we are Security Notification Attachment, and we have never violated the terms of the concluded transactions, because our honesty and openness is the guarantee of our income," the Snatch Team wrote to Databreaches.net in response to questions.
But so far the Snatch Team has not been able to explain why it is using the very same domain names that the Snatch ransomware group used?
Their claim is even more unbelievable because the Snatch Team members told Databreaches.net they didn't even know that a ransomware group with that name already existed when they initially formed just two years ago.
This is difficult to swallow because even if they were a separate group, they'd still need to somehow coordinate the transfer of the Ransomware group's domains on the clear and dark webs. If they were hoping for a fresh start or separation, why not just pick a new name and new web destination?
"Snatchteam[.]cc is essentially a data market," they continued. "The only thing to underline is that we are against selling leaked information, sticking to the idea of free access. Absolutely any team can come to us and offer information for publication. Even more, we have heard rumors that a number of ransomware teams scare their clients that they will post leaked information on our resource. We do not have our own ransomware, but we are open to cooperation on placement and monetization of dates (sic)."
Maybe Snatch Team does not wish to be associated with Snatch Ransomware because they currently believe stealing data and then extorting victim companies for money is somehow less evil than infecting all of the victim's servers and backups with ransomware.
It is also likely that Snatch Team is well aware of how poorly some of their founders covered their tracks online, and are hoping for a do-over on that front.
Source:: KrebsOnSecurity