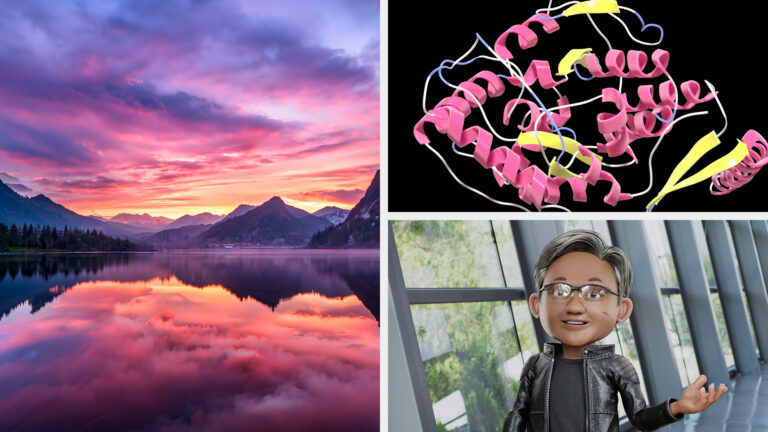 Generative AI is primed to transform the world's industries and to solve today's most important challenges. To enable enterprises to take advantage of the…
Generative AI is primed to transform the world's industries and to solve today's most important challenges. To enable enterprises to take advantage of the possibilities with generative AI, NVIDIA has launched NVIDIA AI Foundations and the NVIDIA NeMo framework, powered by NVIDIA DGX Cloud. 
NVIDIA AI Foundations are a family of cloud services that provide enterprises with a simplified approach to build and run custom generative AI, starting with state-of-the-art foundation models for text language, visual media, and the language of biology. 
NeMo framework enables enterprises to easily develop large-scale generative AI language and biology models, train them, customize, and deploy in production.
Watch the NVIDIA GTC 2023 keynote with NVIDIA CEO Jensen Huang to learn about the latest generative AI announcements from NVIDIA.
NVIDIA NeMo service
NVIDIA announces NeMo, a cloud service for enterprise hyper-personalization and at-scale deployment of intelligent large language models (LLMs). Apply for early access to NeMo service, and check out what's included below.
Three new NVIDIA-built foundation models to meet the complexity and latency needed for your applications 
A new community-built model that supports over 101 languages
A new Inform capability that connects proprietary knowledge sources with generative pretrained models, encoding AI with real-time information
Customization techniques such as p-tuning and reinforcement learning with human feedback (RLHF) to define operating domain, add specialized skills, and continuously make applications smarter
Cloud APIs to deploy applications and a playground to experience LLMs 
More than 60 customers are now using NeMo service through the early access program. Morningstar is using LLMs to scan and summarize information from sources such as financial documents to quickly extract market intelligence. The Wallenberg AI, Autonomous Systems and Software Program (WASP) is creating synthetic data to fine-tune LLMs, making them responsible AI-compliant. And Writer is generating content with enterprises' brand voice using LLMs.
Join us for these NVIDIA GTC 2023 sessions to learn more: 
How to Build Generative AI for Enterprise Use Cases
Leveraging Large Language Models for Generating Content
Power of Large Language Models: The Current State and Future Potential
Generative AI Demystified
NVIDIA Picasso service
NVIDIA launches Picasso, a cloud service for building and deploying generative AI-based image, video, and 3D applications. It is optimized to deliver the highest training and inference performance for generative AI workloads on NVIDIA DGX Cloud. Sign up to be notified of NVIDIA Picasso service availability.
Picasso service includes state-of-the-art Edify foundation models for generating high-resolution images, high-fidelity video, and 3D assets with detailed geometries.
NVIDIA announced responsible partnerships with:
Getty to train Edify image and video models on its fully licensed data
Shutterstock to train Edify 3D models on Shutterstock's fully licensed data
Adobe to create the next generation of commercially viable generative AI models for Adobe Creative Cloud flagship products like Photoshop, Premiere Pro, and After Effects
Developers can use Picasso service to:
Optimize and run custom generative AI models
Access state-of-the-art Edify models on proprietary data 
Build custom applications starting with Edify pretrained models
Join us for these NVIDIA GTC 2023 sessions to learn more: 
Fireside Chat with Ilya Sutskever and Jensen Huang: AI Today and Vision of the Future
Insights from NVIDIA Research 
Are Generative Models the Key to Achieving Artificial General Intelligence?
GANs to Diffusion: The Path to Generative AI
NVIDIA BioNeMo service
NVIDIA unveils BioNeMo service to advance biology research and development with generative AI. BioNeMo, a cloud service for generative AI in drug discovery, includes new models for 3D protein structure prediction, protein and small molecule generation, property predictions, and molecular docking. Apply for early access to BioNeMo service. BioNeMo enables your enterprise to:
Bring your data to train, fine-tune, customize, and deploy generative AI models that are optimized for biology and chemistry
Access nine pretrained AI models—available either through a browser-based interface or through cloud APIs—that easily integrate into existing drug discovery pipelines
Pair BioNeMo with supercomputing resources in NVIDIA DGX Cloud and customize models on fully managed software using NVIDIA Base Command Platform and NVIDIA AI Enterprise
Leading pharmaceuticals are using BioNeMo to design new therapeutic candidates. BioNeMo can be harnessed on Tokyo-1, the world's first generative AI supercomputer for pharma in Japan. To learn more, see Building Generative AI Pipelines for Drug Discovery with NVIDIA BioNeMo.
Join us for these NVIDIA GTC 2023 sessions to learn more: 
Accelerating Generative AI in Biology and Healthcare
AI-Powered Drug Discovery
A Transformative AI Platform to Accelerate Biologics Discovery
Generative Deep Learning with BioNeMo for Protein Therapeutics
NVIDIA NeMo framework
NVIDIA announces NeMo framework, an end-to-end, cloud-native enterprise framework to build, customize, and deploy generative AI models with billions of parameters. Apply now to join the NeMo framework open beta program, and check out the features below.
Expanded support across modalities including speech, language, images

Model architectures for language: BERT, GPT-3, T5, T5-MoE, Inform 
Model architectures for image: Stable Diffusion v1.5, VisionTransformers (ViT), CLIP, Instruct-Pix2Pix

New LLM customization techniques: adapters, RLHF, and attention with linear biases (AliBi)
New GPU-accelerated data processing libraries to mine and curate high-quality text data to train LLMs
NeMo framework in NVIDIA AI Enterprise will be generally available in spring 2023.
Join us for these NVIDIA GTC 2023 sessions to learn more: 
How to Build Generative AI for Enterprise Use Cases
The Possibilities for Natural Language Processing and Large Language Models in Finance: Insights from Deutsche Bank
Taming LLMs with the Latest Customization Techniques
Retrieval-Augmented Language Model and Its Application for Question-Answering and Image Captioning
Source:: NVIDIA