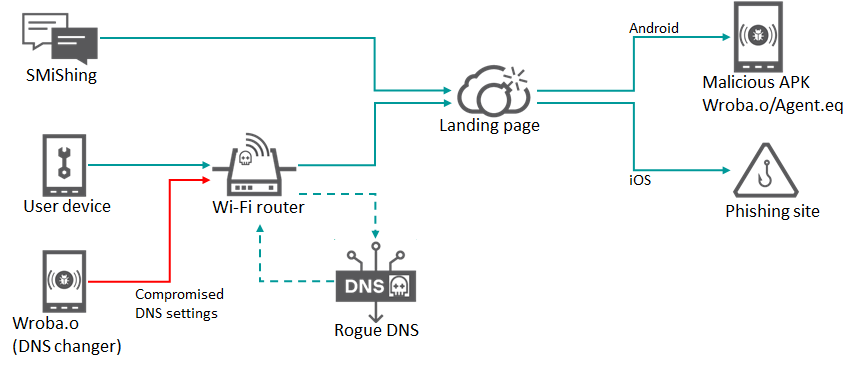 Roaming Mantis (a.k.a Shaoye) is well-known as a long-term cyberattack campaign that uses malicious Android package (APK) files to control infected Android devices and steal device information; it also uses phishing pages to steal user credentials, with a strong financial motivation.
Kaspersky has been investigating the actor's activity throughout 2022, and we observed a DNS changer function used for getting into Wi-Fi routers and undertaking DNS hijacking. This was newly implemented in the known Android malware Wroba.o/Agent.eq (a.k.a Moqhao, XLoader), which was the main malware used in this campaign.
DNS changer via malicious mobile app
Back in 2018, Kaspersky first saw Roaming Mantis activities targeting the Asian region, including Japan, South Korea and Taiwan. At that time, the criminals compromised Wi-Fi routers for use in DNS hijacking, which is a very effective technique. It was identified as a serious issue in both Japan and South Korea. Through rogue DNS servers, all users accessing a compromised router were redirected to a malicious landing page. From mid-2019 until 2022, the criminals mainly used smishing instead of DNS hijacking to deliver a malicious URL as their landing page. The landing page identified the user's device platform to provide malicious APK files for Android or redirect to phishing pages for iOS.
Infection flow with DNS hijacking
In September 2022, we carried out a deep analysis of Wroba.o (MD5 f9e43cc73f040438243183e1faf46581) and discovered the DNS changer was implemented to target specific Wi-Fi routers. It obtains the default gateway IP address as the connected Wi-Fi router IP, and checks the device model from the router's admin web interface.
Code for checking Wi-Fi router model
The following strings are hardcoded for checking the Wi-Fi router model:
ipTIME N3-i
ipTIME N604plus-i
EFM Networks ipTIME N604plus-i
EFM Networks – ipTIME Q104
EFM Networks ipTIME Q104
EFM Networks – ipTIME Q204
EFM Networks ipTIME Q204
EFM Networks ipTIME V108
EFM Networks ipTIME Q604
EFM Networks ipTIME Q604 PINKMOD
EFM Networks ipTIME N104R
EFM Networks ipTIME N604R
EFM Networks ipTIME Q504
EFM Networks ipTIME N5
EFM Networks ipTIME N604V
EFM Networks ipTIME N104T
EFM Networks – ipTIME G301
title.n704bcm
title.a8004t
title.a2004sr
title.n804r
title.n104e
title.n104pk
title.a1004ns
title.a604m
title.n104pi
title.a2008
title.ax2004b
title.n104q
title.n604e
title.n704e
title.n704v3
title.n704v5
title.t5004
title.t5008
title.a1004
title.a2003nm
title.a2004sr
title.a5004nm
title.a604sky
title.n2pi
title.n604pi
title.a2004m
title.a3004nm
title.a7ns
title.a8txr
title.ew302nr
title.n602e
title.t16000
title.a3003ns
title.a6004nm
title.n1e
title.n3i
title.n6
title.a2004ns
title.n1pi
title.a2004r
title.n704bcm
title.n600
title.n102e
title.n702r
title.a8004i
title.a2004nm
title.t16000m
title.a8004t
title.a604r
title.a9004x2
title.a3004t
title.n804r
title.n5i
title.n704qc
title.a8004nm
title.a8004nb
title.n604p
title.a604gm
title.a3004
title.a3008
title.n2v
title.ax2004m
title.v504
title.n1p
title.n704bcm
title.ew302
title.n104qi
title.n104r
title.n2p
title.n608
title.q604
title.n104rsk
title.n2e
title.n604s
title.n604t
title.n702bcm
title.n804
title.n3
title.q504
title.a604
title.v308
title.a3004d
title.n104p
title.g104i
title.n604r
title.a2004
title.a704nb
title.a604v
title.n6004r
title.n604p
title.t3004
title.n5
title.n904
title.a5004ns
title.n8004r
title.n604vlg
From these hardcoded strings, we saw that the DNS changer functionality was implemented to target Wi-Fi routers located in South Korea: the targeted models have been used mainly in South Korea.
Next, the DNS changer connects to the hardcoded vk.com account "id728588947" to get the next destination, which is "107.148.162[.]237:26333/sever.ini". The "sever.ini" (note the misspelling of server) dynamically provided the criminal's current rogue DNS IP addresses.
Rogue DNS from a vk.com hardcoded account to compromise the DNS setting
Checking the code of the DNS changer, it seems to be using a default admin ID and password such as "admin:admin". Finally, the DNS changer generates a URL query with the rogue DNS IPs to compromise the DNS settings of the Wi-Fi router, depending on the model, as follows.
Hardcoded default ID and password to compromise DNS settings using the URL query
We believe that the discovery of this new DNS changer implementation is very important in terms of security. The attacker can use it to manage all communications from devices using a compromised Wi-Fi router with the rogue DNS settings. For instance, the attacker can redirect to malicious hosts and interfere with security product updates. In 2016, details of another Android DNS changer were published, demonstrating why DNS hijacking is critical.
Users connect infected Android devices to free/public Wi-Fi in such places as cafes, bars, libraries, hotels, shopping malls and airports. When connected to a targeted Wi-Fi model with vulnerable settings, the Android malware will compromise the router and affect other devices as well. As a result, it is capable of spreading widely in the targeted regions.
Investigation of landing page statistics
As we mentioned above, the main target regions of the DNS changer were mainly South Korea. However, the attackers not only targeted South Korea but also France, Japan, Germany, the United States, Taiwan, Turkey and other regions. Smishing has been observed to be the main initial infection method in these regions, except South Korea, though we should keep in mind that the criminals may update the DNS changer function to target Wi-Fi routers in those regions in the near future.
In December 2022, we confirmed some landing pages and got an understanding of the number of downloaded APK files. Below are some examples of the download URLs from the landing page statistics.
Target regions
Landing page IP
# of Downloaded APK
Examples of download URLs
Japan
103.80.134[.]40
103.80.134[.]41
103.80.134[.]42
103.80.134[.]48
103.80.134[.]49
103.80.134[.]50
103.80.134[.]51
103.80.134[.]52
103.80.134[.]53
103.80.134[.]54
24645
http://3.wubmh[.]com/chrome.apk
http://5.hmrgt[.]com/chrome.apk
http://9v.tbeew[.]com/chrome.apk
Austria
199.167.138[.]36
199.167.138[.]38
199.167.138[.]39
199.167.138[.]40
7354
http://8.ondqp[.]com/chrome.apk
http://5c2d.zgngu[.]com/chrome.apk
http://d.vbmtu[.]com/chrome.apk
France
199.167.138[.]48
199.167.138[.]49
199.167.138[.]51
199.167.138[.]52
7246
http://j.vbrui[.]com/chrome.apk
http://vj.nrgsd[.]com/chrome.apk
http://k.uvqyo[.]com/chrome.apk
Germany
91.204.227[.]144
91.204.227[.]145
91.204.227[.]146
5827
https://mh.mgtnv[.]com/chrome.apk
http://g.dguit[.]com/chrome.apk
http://xtc9.rvnbg[.]com/chrome.apk
South Korea
27.124.36[.]32
27.124.36[.]34
27.124.36[.]52
27.124.39[.]241
27.124.39[.]242
27.124.39[.]243
508
http://m.naver.com/chrome.apk
https://m.daum.net/chrome.apk
(legitimate domains because DNS hijacking)
Turkey
91.204.227[.]131
91.204.227[.]132
381
http://y.vpyhc[.]com/chrome.apk
http://r48.bgxbm[.]com/chrome.apk
http://t9o.qcupn[.]com/chrome.apk
Malaysia
134.122.137[.]14
134.122.137[.]15
134.122.137[.]16
154
http://3y.tmztp[.]com/chrome.apk
http://1hy5.cwdqh[.]com/chrome.apk
http://53th.xgunq[.]com/chrome.apk
India
199.167.138[.]41
199.167.138[.]43
199.167.138[.]44
199.167.138[.]45
28
http://w3.puvmw[.]com/chrome.apk
http://o.wgvpd[.]com/chrome.apk
http://kwdd.cehsg[.]com/chrome.apk
The number of downloaded APK files was reset at the beginning of December 2022. After a few days, we got the above numbers from the landing pages, and it showed us that Android malware was still being actively downloaded for some targeted regions. It also showed us that the most affected region was Japan, followed by Austria and France. From this investigation, we noted that the criminals have now also added Austria and Malaysia to their main target regions.
According to the download URLs for each region above, with the exception of South Korea, it seems that the criminals randomly generated and registered these domains to resolve the IP addresses of the landing page. It seems pretty obvious these domains were used as a link in the smishing for the initial infection. Regarding South Korea, the URLs have a legitimate domain because of DNS hijacking. Resolving the legitimate domain for "m.xxx.zzz" (for mobile) and "www.xxx.zzz" with rogue DNS and legitimate DNS yields the following results, respectively:
"m.xxx.zzz" + rogue DNS
"www.xxx.zzz" + rogue DNS
$ dig m.daum.net @ 193.239.154.15
; DiG 9.18.1-1ubuntu1.2-Ubuntu
m.daum.net @193.239.154.15
;; global options: +cmd
;; Got answer:
;; ->>HEADERHEADER
Source:: Securelist