Introducing Automatic Platform Optimization, starting with WordPress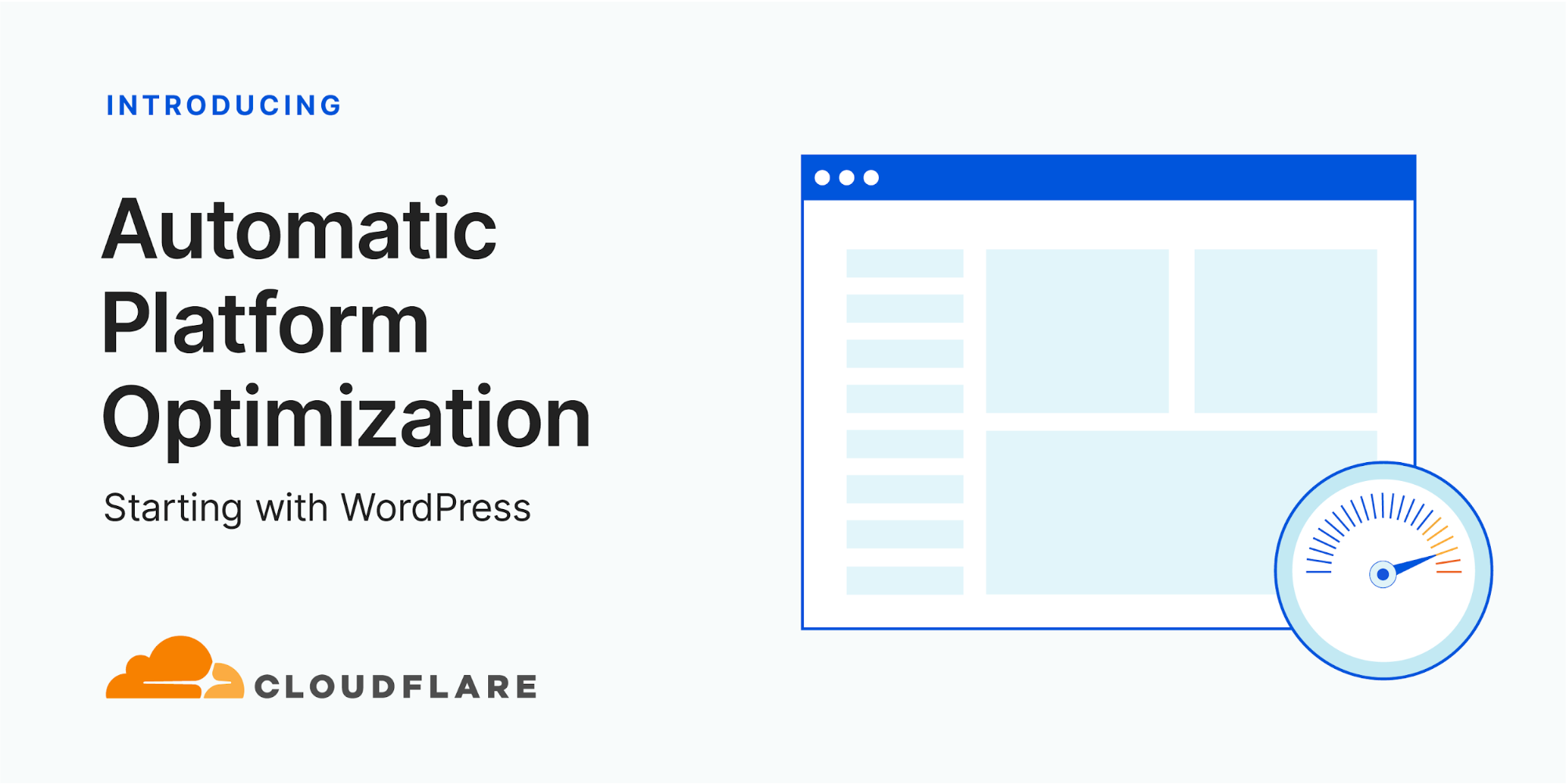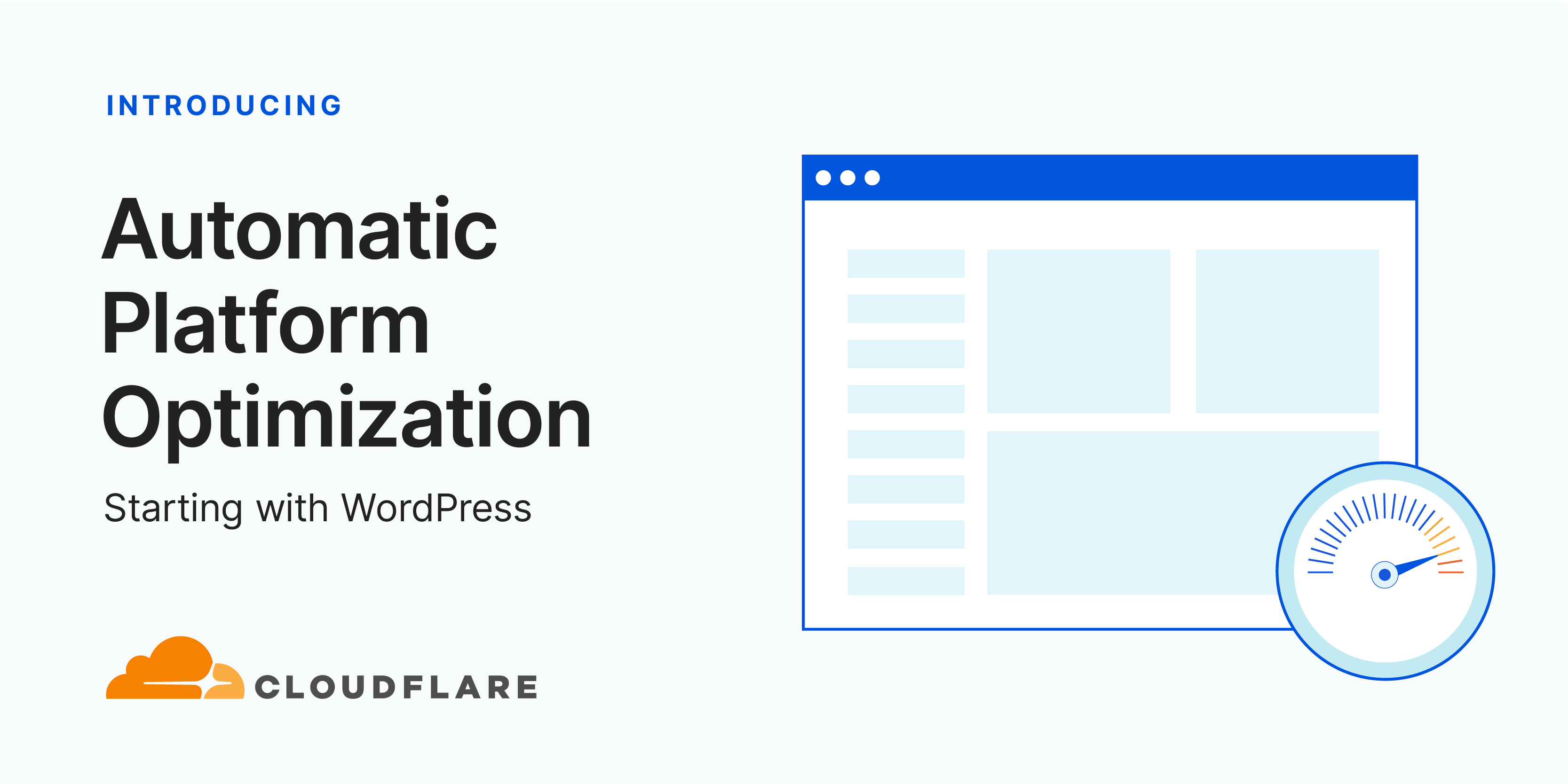 Today, we are announcing a new service to serve more than just the static content of your website with the Automatic Platform Optimization (APO) service. With this launch, we are supporting WordPress, the most popular website hosting solution serving 38% of all websites. Our testing, as detailed below, showed a 72% reduction in Time to First Byte (TTFB), 23% reduction to First Contentful Paint, and 13% reduction in Speed Index for desktop users at the 90th percentile, by serving nearly all of your website's content from Cloudflare's network. This means visitors to your website see not only the first content sooner but all content more quickly.
With Automatic Platform Optimization for WordPress, your customers won't suffer any slowness caused by common issues like shared hosting congestion, slow database lookups, or misbehaving plugins. This service is now available for anyone using WordPress. It costs $5/month for customers on our Free plan and is included, at no additional cost, in our Professional, Business, and Enterprise plans. No usage fees, no surprises, just speed.
Why We Built This
At Cloudflare, we jump at the opportunity to make hard problems for our customers disappear with the click of a button. Running a consistently fast website is challenging. Many businesses don't have the time nor money to spend on complicated and expensive performance solutions for their site. Even if they do, it can be extremely costly to pay for specialized attention to ensure you get the best performance possible. Having a fast website doesn't have to be complicated, though. The closer your content is to your customers, the better your site will perform. Static content caching does this for files like images, CSS and JavaScript, but that is only part of the equation. Dynamic content is still fetched from the origin incurring costly round trips and additional processing time. For more info on dynamic versus static content, see our learning center.
WordPress is one of the most open platforms in the world, but that means you are always at risk of incurring performance penalties because of plugins or other sources that, while necessary, may be hard to pinpoint and resolve. With the Automatic Platform Optimization service, we put your website into our network that is within 10 milliseconds of 99% of the Internet-connected population in the developed world, all without having to change your existing hosting provider. This means that for most requests your customers won't even need to go to your origin, reducing many costly round trips and server processing time. These optimizations run on our edge network, so they also will not impact render or interactivity since no additional JavaScript is run on the client.
How We Measure Web Performance
Evaluating performance of a website is difficult. There are many different metrics you can track and it is not always obvious which metrics most meaningfully represent a user's experience. As discussed when we blogged about our new Speed page, we aim to simplify this for customers by automating tests using the infrastructure of webpagetest.org, and summarizing both the results visually and numerically in one place.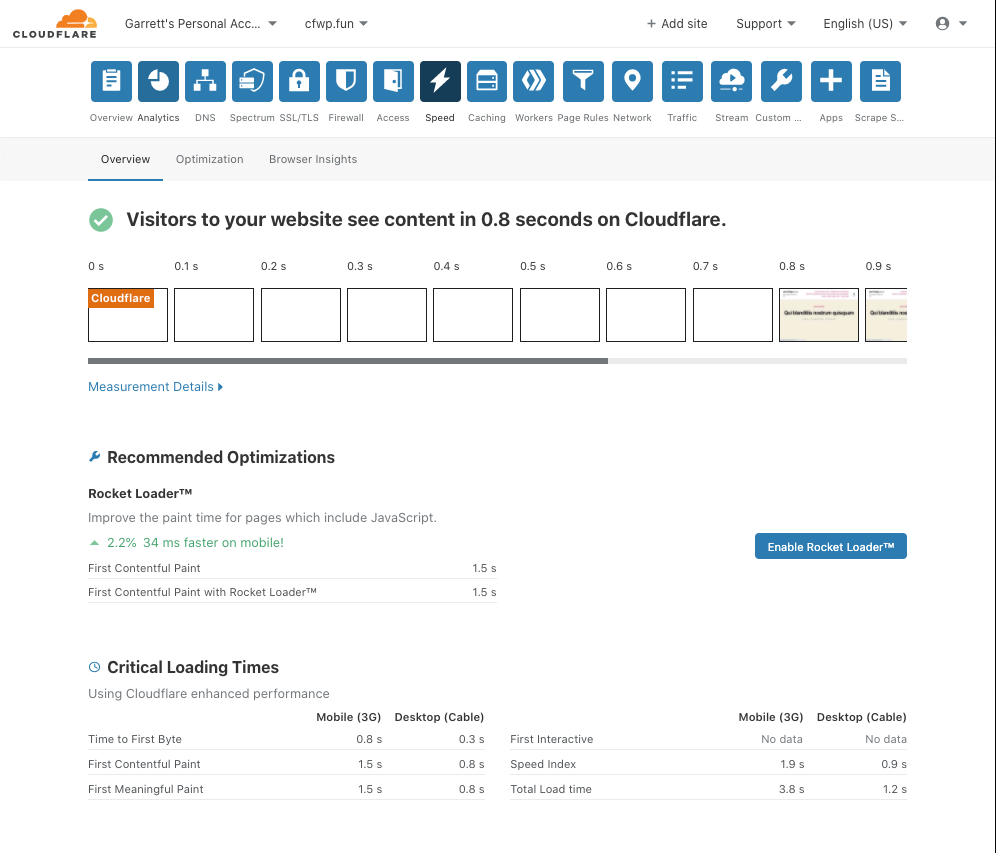 The visualization gives you a clear idea of what customers are going to see when they come to your site, and the Critical Loading Times provide the most important metrics to judge your performance. On top of seeing your site's performance, we provide a list of recommendations for ways to even further increase your performance. If you are using WordPress, then we will test your site with Automatic Platform Optimizations to estimate the benefit you will get with the service.
The Benefits of Automatic Platform Optimization
We tested APO on over 500 Cloudflare customer websites that run on WordPress to understand what the performance improvements would be. The results speak for themselves:
Test Results
Metric
Percentiles
Baseline Cloudflare
APO Enabled
Improvement (%)
Time to First Byte (TTFB)
90th
1252 ms
351 ms
71.96%
10th
254 ms
261 ms
-2.76%
First Contentful Paint
(FCP)
90th
2655 ms
2056 ms
22.55%
10th
894 ms
783 ms
12.46%
Speed Index
(SI)
90th
6428
5586
13.11%
10th
1301
1242
4.52%
Note: Results are based on test results of 505 randomly selected websites that are cached by Cloudflare. Tests were run using WebPageTest from South Carolina, USA and the following environment: Chrome, Cable connection speed.
Most importantly, with APO, a site's TTFB is made both fast and consistent. Because we now serve the html from Cloudflare's edge with 0 origin processing time, getting the first byte to the eyeball is consistently fast. Under heavy load, a WordPress origin can suffer delays in building the html and returning it to visitors. APO removes the variance due to load resulting in consistent TTFB
Source:: CloudFlare